Okay. You've made it to the wholesale silver jewelry online world and are a happy member of the industry. You have an eye for beautiful stuff and love what you do. Are these facts enough to give your business wings to fly to future generations? Unfortunately, they are not. There is no doubt that you are in a good position right now. You have left the annoying phase of starting up a silver jewelry wholesale online business behind you and already have some customers. But the goal is to grow. The intention is to keep the existing customers and gain new ones too. And this is not easy to do in the highly competitive market of wholesale sterling silver jewelry. So, here's a short guide on the things you must do to succeed in this sector.
Silver jewelry line updates
Renewing your wholesale jewelry collection often is very, very important. The best jewel sellers become boring if the line is not updated. Perhaps there is no point in pinpointing the importance of offering a great range of products. Having just pendants, earrings and bracelets narrows the options of the buyer. You need to keep a wide collection of beads, necklaces, charms, rings, and body jewelry wholesale. You also need to keep enriching each category and stay aligned with the latest trends. Don't forget that people love thematic jewelry, Christmas items, Valentine's products etc. And so the retailers would search for such products and if you had a diversity of categories and themes, you'll be the winner jewelry wholesale supplier.
High-quality silver jewelry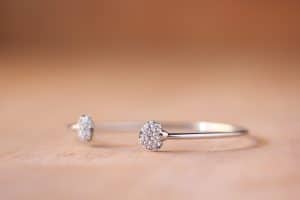 Selling high-quality rings, pendants and necklaces will help you stand out as a reputable wholesale jewelry supplier. Fake jewelry make the skin greenish and can cause allergies. You don't want to get such complaints from your customers. So always work with trusted manufacturers. Test your jewelry. It's vital for your customers to know that they only get nickel and lead free jewelry from you. The quality is even more important when it comes to body piercing jewelry.
Quick delivery
If retailers don't get their orders as promised, they will most likely not come back to shop from you. If you have some doubts about the delivery process, get reorganized. Orders must be delivered on time and quickly. Nobody wants to wait, especially if they order for special occasions like Valentine's Day or Christmas.
Keep advertising
When it comes to online wholesale jewelry businesses, constant advertising helps you get ahead of competition. It's good for business. This is not a one-time thing. You need to keep your advertising focused – hence, targeting your particular group so that the retailers will find you. And you need to share your latest news and products on social media constantly. If you want to be a successful online shop, you must stay connected.
Price reasonably
There is no doubt that your expenses are plenty. Thus keeping the jewelry wholesale prices low is not easy. But low prices combined with a range of products is the classic recipe for successful businesses. Since the price depends on how much you buy your stock, packaging, delivery expenses, taxes, and profit, you need to look out for new partnerships that would provide cheaper solutions for you but never at the expense of quality.
Maintain a user-friendly site
Retailers might have the best intentions of shopping from you but if your site takes forever to load, the images of the products are horrible, checking out is a drag, and the payment methods are not popular or secure, you are bound to lose customers.
To wrap things up…
In order to succeed in the wholesale silver jewelry online sector, you need to give your customers a reason for staying on board with you. This can happen with friendly prices and customer service, a wide range of high-quality wholesale silver jewelry, detailed information about each item, safe payment methods, continuous advertising campaigns, and some small treats here and there – like discounts and sales. Who doesn't love a special treat?